Solace Apartments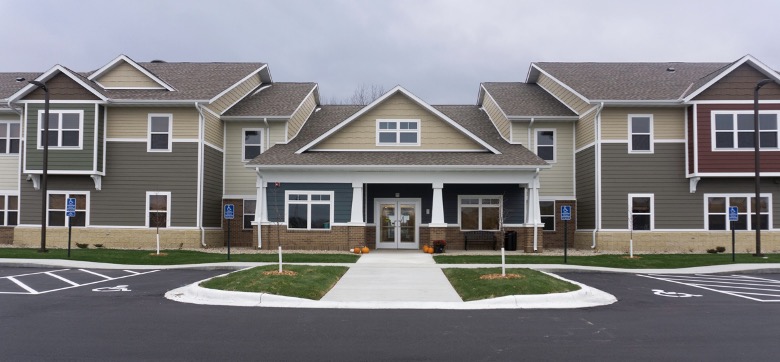 Solace Apartments, in St. Peter, Minnesota, was born out of a desire to provide a stable place to call home for women and families involved in recovery court.  Women exiting the treatment and criminal justice system were falling through the cracks and ending up back in the system as they were unable to find housing, returning to unhealthy relationships and environments without support out of economic necessity, and navigating barrier after barrier.  
Multiple community partners, including Treatment Court, Nicollet County Health & Human Services, the school district, probation, the county prosecutor and public defender, city council members, county commissioners, the city administrator, public health, a drug court graduate, property management and SWMHP staff worked together over a number of years to develop what a program like this would look like.  They made development designs to incorporate needs of various stakeholders, applied for grants and Low Income Housing tax credits, and worked to build support amongst the community to get Solace off the ground.
One of the key principles of Solace is Housing First.  We know that people are going to have more success in recovery where there is a safe place to land at the end of each day and where people are able to build back up their autonomy and identity and rebuild their families.  We also know that focusing on the whole family's wellness leads to better outcomes.  
Solace is a 30 unit mix of 1, 2 and 3 bedroom units, with service provider space onsite.  An SWMHP Resident Services Navigator works with residents to determine what resources they need to be successful in their housing, as well as provides encouragement and support to residents and their children, crisis management, conflict resolution and serves as an advocate for Solace and low barrier, affordable housing within the community.  We partner with three key providers to provide on site services in the areas of chemical dependency treatment and mental health services and maintain close working relationships with county case management and probation.  
While clinical and professional services are important in recovery, so too are outlets for self expression and building community.  Since the day Solace opened, there has been some kind of artist presence on site.  These artists have worked with residents to form their community, explore new interests and hobbies, find their voice to tell their stories, and worked with the residents to design and build a community garden. 
Read Mankato Free Press Article
Read post: Breaking the Recidivism Cycle in Greater MN: The Solace Project