Community Building & Engagement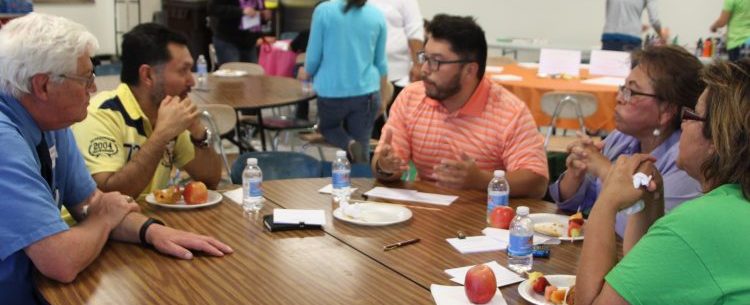 The Southwest Minnesota Housing Partnership engages in and bases its Community Building and Engagement (CB&E) work on the NeighborWorks CB&E model.
CB&E was created out of the passion and commitment of local residents who wanted to change their communities for the better. The CB&E model believes resident engagement and leadership are essential for communities to realize their vision for a vibrant and welcoming place for all to call home. Community building and engagement work brings the talents, resources and skills of people in a community together, increasing their collective capacity.
The Community Building and Engagement (CB&E) program at Southwest Minnesota Housing Partnership supports local residents' engagement, leadership and participation in their communities, and our resident-driven approach strengthens relationships among neighbors and catalyze positive community change.
Our partnership with NeighborWorks America helps to support our CB&E work through:
Grant resources.  Competitive grants are awarded through NeighborWorks America to enhance the impact of the CB&E efforts.
Peer-learning opportunities. Through in-person and virtual connections, NeighborWorks America facilitate adoption of effective community engagement practices.
We are also engaged in NeighborWork's network-wide support for resident leadership development via:
The Community Leadership Institute (CLI).  An annual training event that brings teams of residents together for leadership training and action planning.  Each year, NeighborWorks America awards more than $200,000 for community based projects born out of the CLI.
The Dorothy Richardson Awards.  Named for the Pittsburgh resident whose tenacious and visionary work led to the founding of the original Neighborhood Housing Services organization, the award annually recognizes outstanding individual resident leaders working to make change "stick" in their home communities.
Examples of Southwest Minnesota Housing Partner's CB&E work in your communities:
Hmong Cultural Community Center – PUSH Walnut Grove, MN (2015 – current)

Resident leaders from PUSH attended the CLI Training in Columbus, OH (October 2016)

Diversity Inclusion Group – Marshall, MN (2015-current)
Micronesian and Milan Community Engagement – Milan, MN (2014-current)
HomeStretch Course – October 2014
Community engagement via CB&E and ArtPlace (2015 – current)
Home Maintenance Course – August 2016
Student Lead Career Exploration Initiative – Worthington, MN (2014-2015)
Youth Career Camps – Marshall, MN; Mankato, MN; Worthington, MN (2009-2014)
If you are interested in learning how the Southwest Minnesota Housing Partnership can help your resident lead efforts, please contact us at swmhp@swmhp.org.
NeighborWorks Week
We facilitate an annual week of service in early June called NeighborWorks Week. This event mobilizes volunteers, businesspeople, neighbors, friends, and local and national elected and civic leaders in a week of neighborhood change and awareness through various resident lead projects to improve and beautify communities. If you are interested in organizing a NeighborWorks Week event please contact us at swmhp@swmhp.org.
Examples of NeighborWorks Week activities:
Building a playground / cleaning up a playground or park.
Groups assisting seniors and disabled with home maintenance.
Hosting a community art party/project to celebrate your community.
Creating a community garden.
Host an Arts Fair / Farmers Market / Resource Fair.
Host an international food festival showcasing your community's diversity.
Youth lead volunteer activities in the community.
Getting Involved in Your Community
You can make a difference in your community by becoming involved with local activities. Good places to start include:
Contacting a local nonprofit. Engage with local nonprofits to see how you can assist them in helping your community.
Volunteering. Search for volunteer opportunities at your faith organization, school, library, non-profit, and online with the local United Way website.
Participating in local events. Is your community holding a fair, theme day or fundraiser? Offer to help or stop by and talk to the organizers. Also consider events like National Night Out as opportunities to meet your neighbors.
Getting involved with a neighborhood association. Attend meetings and participate in your neighborhood association and if there isn't a local neighborhood association you can form one.
Call to learn how to start a resident lead activity and to find out if there are any local resident driven activities you can become involved with, contact us at swmhp@swmhp.org.